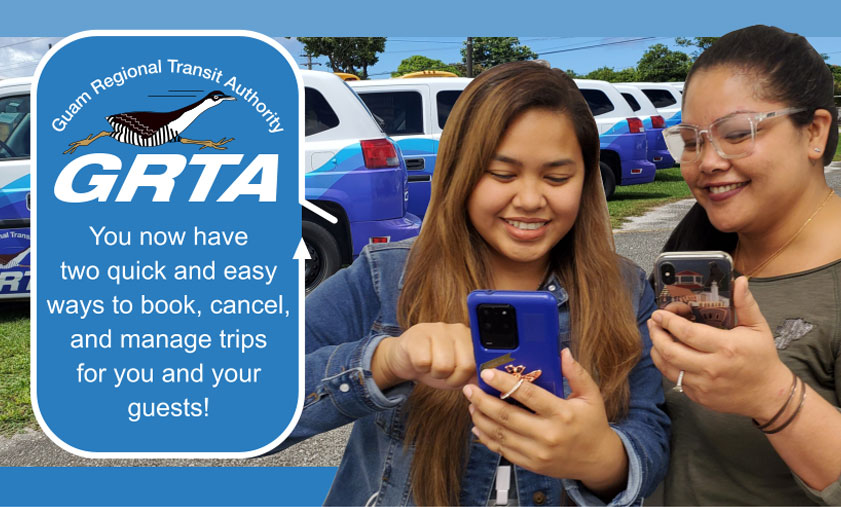 The Guam Regional Transit Authority (GRTA) in our desire to afford eligible persons with disabilities a more efficient and customer-friendly paratransit service, introduces the App Mobility Enhancer (AMBLE).
 
AMBLE is free of charge to our paratransit riders.  GRTA AMBLE is part of the One Call – One-Click Transportation Management System (TMS) technology that enhances our service with features that will make it more convenient for paratransit riders to schedule and customize their rides to and from their desired destinations.  It's another dimension to scheduling their rides besides using the telephone.  With the GRTA AMBLE App, paratransit riders will download the mobile application on their cellular telephones, register then request to schedule their rides as early as 14 days in advance or go online to request reservations.
 
A day before their scheduled rides, a notification system (also part of the one-call one-click Transportation Management System Technology) will contact them letting them know that they have a ride the next day.  Should they decide to keep the rides, paratransit riders do not have to do anything.  Nevertheless, if they wish to cancel, the riders can terminate their rides at such time.  Moreover, the next day the notification will alert them before their bus arrives to prepare and get ready.
 
It's a new and the first integrated technology system for GRTA and will offer authorized persons with disabilities the capabilities to make paratransit services more accessible online or on the mobile app. With the ability to request and access their trips whenever and wherever our paratransit riders will have more freedom to plan out their future trips
 
To learn more, attend our Zoom Public Forum on "An Introduction to GRTA Amble App" on Dec 16 at 9 am. Email ride@grta.guam.gov care of Ms. Myra Hernandez to provide you with a zoom invitation to the Public Forum.
 
You may also revisit our website after our zoom forum on Dec 16 for updates on the Amble Introduction, Registration, and requesting trips. Remember, you must be an existing customer of the Guam Regional Transit Authority to use Amble.
 
If you would like to be our paratransit rider, please review our paratransit service menu for more information or contact our office.
 
For more information about how to register: 

Guide to AMBLE APP for Android and Iphone.
Guide to AMBLE ONLINE Guide

Link to Amble Website: Please click here
https://amble.routematch.com/login?a=gu_grta